It's important for us to understand how the environment can affect people. We call this "How everyone matters" and you'll find it explained in more detail below together with an explanation of dementia friendly environments.
Being admitted to a hospital, care home or support facility can be a frightening experience and may cause agitation, disorientation and distress. Anxiety is also increased due to unfamiliar surroundings. Patients may: –
be confused in unfamiliar environment
become restless and distracted
have difficulty seeing handrails, toilet seats or doors
avoid stepping on shadows or coloured strips on flooring (looks like change of level)
resist walking on shiny flooring (looks wet or slippery)
have a reduced tolerance for sound and feel anxious with unfamiliar noises
feel curious and want to walk around
What is a Dementia Friendly Environment?
A dementia friendly environment is one that is designed to be simple and safe for people with dementia to move around in. By making the surroundings more comfortable it promotes independence, reduces frustration and makes the whole experience calmer for patients and their families.
Dementia

800,000 people have dementia in the UK. Over the next fifteen years that figure is expected to rise by 38%. 60% of all acute beds are occupied by someone over the age of 65 and 40% of those have dementia.
With a diagnosis of 1 in 88 people in the UK having dementia this will affect everyone at some point of their lives, whether it is a relative, friend or carer. No two people will have the same symptoms and diagnosis of dementia can be difficult particularly when it's in its initial stages. There are over 17,000 younger people under the age of 65 in the UK who have dementia and therefore it is imperative that we start to help create environments for new and existing generations will relate to.
The ability to change how we look after families coping with this diagnosis is crucial and the re-design of acute and intermediate care settings supports this theory.
How do we choose an environmental theme?
Choosing a theme that everyone will understand is important. At GM Building and Property Services Limited our Project Managers will visit your organisation and design an innovative and bespoke environment suitable for patients with dementia, stroke and palliative care needs.
Both our Project Managers have been trained by the Kings Fund and hold between them 47 years' experience of working within the NHS and 35 years of project management experience. The construction manager has 25 years' experience in construction and property services.
Extensive research has been undertaken to achieve the best possible environment for these patients and we are committed to refining the way vulnerable adults are cared for in making their stay in hospitals and community facilities as stress free as possible.
The importance of the Environment
As individuals experience dementia differently the guidelines are designed to make sure that no one with dementia would be unnecessarily disabled by any features in a dementia friendly space.
Our aim

Our aim is to reduce the disorientation and frustration of patients by providing them with a more homely and welcoming experience when they are brought into an unfamiliar environment.
Our improvements include changing décor to make individual bays on wards distinctive and easily recognisable to the patient; swapping white fixtures and fittings in bathrooms for coloured ones to help with depth perception and revamping nursing stations to enable nurses to care more effectively for patients, provide orientation clocks which depict different versions of time (12 hour, 24 hour, clock face and digital) including rotating pictures of seasons and personalised welcoming greetings. Extending existing buildings, with a conservatory or garden, for patients and their families to enjoy helping to reduce anxiety and promote stimulation.
Activity and dining areas can be created to provide a space where patients can take part in activities designed to help with memory and creativity, such as reminiscence and music therapy as well as memory pods in the design of cinema screens, 1950's & 1970's style living room scenes etc whereby patients and their relatives will be able to go and watch movies from their genre.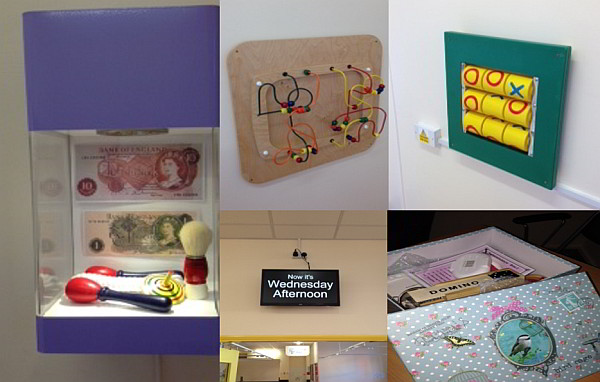 Using bed board pictures that the patients chooses when they arrive, which is then placed above their bed so they can identify their own space e.g this may be a picture of a dog, car, hobby or similar.
Using brighter lighting to help prevent shadows appearing which causes confusion and can be frightening. On all of the wards designed we have laminate style flooring and removed any blue coloured flooring so it did not appear like water. Contrasting the colour of the floor to your walls to help with steps or stairs. Dementia can affect how an individual can distinguish colours.
Using contrasting colours especially for toilet seats or chairs, can help someone with dementia to find these places safely. Consider removing mirrors as sometimes a person with dementia may not recognise themselves, leading to confusion and alarm. Use visual aids to help someone with dementia to navigate around the home makes it easier for them to stay in their own environment.
Our objectives

Support our clients' vision and values
Understand the complex, physical, mental health, emotional and spiritual needs of a person with dementia
Ensure a person-centred approach that respects the individual and the things that matter to them and their families
To commit to create an environment that is adapted for vulnerable adults and that maintains safety and maximises well-being.
For further information or a no obligation free consultation contact our office on 0121 384 8300 or use the direct contact details below:
Estelle Greenwood – Project Manager – 07976893205
[email protected]
Paul Scott – Project Manager – 07947787938
[email protected]
Lucas Greenwood – Director – 07774903794
[email protected]